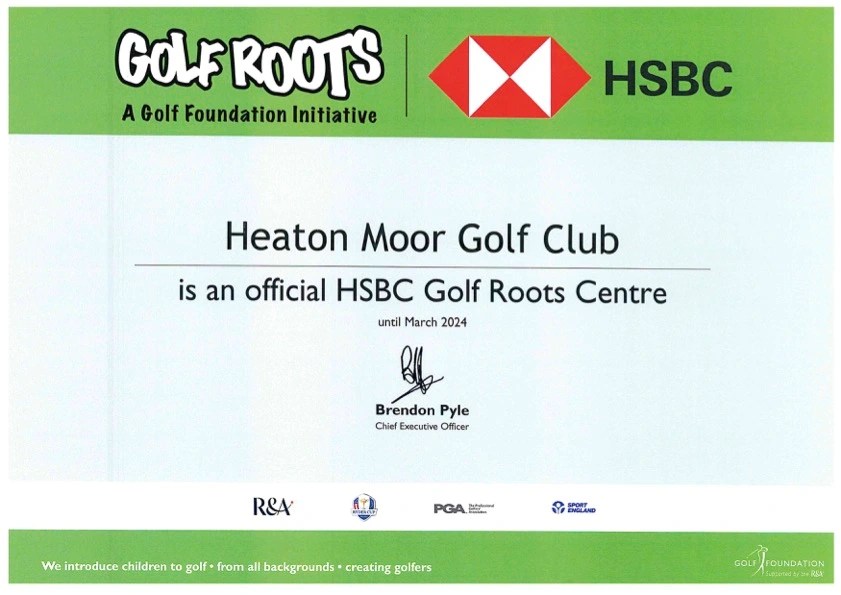 A Brief Introduction to Junior Golf at
Heaton Moor Golf Club
At Heaton Moor Golf Club we aim to make learning and playing the game of golf an enjoyable and safe sport for children and young people. It is a game which can be continued throughout a lifetime and the handicap system enables people of all abilities to play one another.
We have a thriving junior section with coaching from a golf professional available for group and individual lessons. Please see the Coaching section.
How Do I Join
Please Contact the Club Office for an application form or email juniors@heatonmoorgolfclub.co.uk
Your parents or guardian must fill in all sections and sign the membership proposal form giving details of any health concerns which the Club needs to be aware of.
Membership Fees
Cubs (5-10years) £30.00
Juniors (11-17years) £60.00
When you can play (Bye-law 2.9)
Junior Members are restricted from playing on the Course on Saturdays until after the last tee time and after 12.00 on Sundays.
You must always book onto the Club's online booking system (BRS) before going on the course. Please ask about how to do this.
Playing on your own
There is guidance on whether you are allowed on the course and practice ground. You can find this under the Junior Safety Webpage Section on the Website.
Handicaps
For Junior Golfers to obtain their first handicap they must complete 54 holes (3 X 18 holes, 6 X 9 holes) or any combination.
The maximum handicap index is 54
The World Handicap System (WHS) was introduced in the UK in 2020. For more details on handicaps go to www.englandgolf.org or for help with junior handicaps go to www.everyshotcounts.co.uk
Competitions
Competitions between Juniors are arranged through the Junior Committee team and communicated to juniors through the junior What's App and by email.
NB. The Board may permit Juniors of Year 8 school age or above to enter Adult Singles competitions they are eligible for if they have a handicap index of 15.4 or less Juniors, must pay the competition entry fee. They may not win a Major Competition but are eligible to win any other prizes in the Competition they enter (Bye-Law 2.9. 2023)
What to Wear
On the course:
Golf attire, shorts/trousers/skirts with pockets (for tee/balls) and a back pocket for glove as may remove to putt.
A collar polo shirt looks smart and protects your neck from the sun.
Golf shoes
A cap can be worn
In the Clubhouse:
Smart casual dress is required at all times.
Clean denims may be worn in the Clubhouse.
Please take off headgear in the Clubhouse.
Smart trainers may be worn in the Clubhouse.
Coaching
We are keen for all Junior members to progress and improve their game so we regularly put on group coaching sessions throughout the year. These are run by Dave Cullen, an England Golf Professional, and usually take place at the weekend on the practice area which is situated to the right of the driveway near the clubhouse. We take a maximum of 8 juniors at a time and they last an hour covering the main skills of long game – driver and irons, short game – chipping and bunkers and putting, with lots of fun games too. Equipment is provided for those that need it. Juniors should wear suitable clothing for the weather and bring a drink.
The sessions are notified in advance through our Junior WhatsApp group which members can join and can be booked via www.bookwhen.com/hmgc with a small charge to cover the Professionals fee. They are also open to non-members who we hope will then want to join the Junior Section.
Dave is also available for individual lessons. If you have any questions please email juniors@heatonmoorgolfclub.co.uk.
Course Rules and Etiquette
Always Book a tee time via BRS and report to the professionals shop before playing.
Switch your mobile phone to silent whilst on the course, you may carry it for use in the event of an emergency only.
Show courtesy and consideration for others at all times.
Be aware if you have lost a clear hole on the match in front; invite the match behind you to play through.
Be ready to play immediately when it is your turn.
Learn the rules of golf, rule books are available from the secretary and committee members.
Behave in a sportsmanlike way, don't throw clubs or make unnecessary noise on the course.
Rake the bunker after use – leave the rake in the bunker.
Be careful when removing and replacing the flag sticks.
Replace all divots and repair pitch marks on the greens.
Repair spike damage only after completing the hole.
Wait for those in front to move out of range.
Whilst on the green use a pitch mark repairer and repair pitch marks, your own and one other.
At any time, please do not do any of the following:
Drag your feet on the greens this causes damage.
Lean on your putter or the flag stick.
Walk on your fellow competitor's line.
Distract a player by moving or making a noise while they are playing.
Stand behind a player or behind the hole as he plays.
Wheel trolleys between the green side bunkers and the green, on the green or tee-box.
Play the Game
Honesty is very important in golf as it in life itself, it is a game of trust, you are your own policeman. If you cheat, you cheat yourself and betray the trust of other players, once lost trust is very difficult to regain.
CODE OF CONDUCT
Heaton Moor Golf Club expects junior members to uphold a high standard of behaviour whilst playing on the Course, Practice areas and in the Clubhouse.
You should:
help to create and maintain an environment free of fear and harassment.
demonstrate fair play and apply the standards of golf both on and off the course.
treat others as you would wish to be treated yourself.
respect physical, cultural and racial differences.
look out for yourself and for the welfare of others.
speak out if you consider that you or others have been poorly treated.
report behaviour that appears to fall below the expected standards of the Club.
if you observe any form of discrimination or prejudice challenge or report it .
be organised and on time.
do not leave the club following a coaching session, match or competition without the knowledge and permission of the person in charge.
advise the junior organiser or coach of any medical conditions which may affect your standard of play.
You should not:
Take part in any irresponsible, abusive, inappropriate or illegal behaviour which includes:-
consuming alcohol, or illegal and performance enhancing drugs or stimulants.
Smoking.
using foul language.
publicly, (including all social media platforms) using critical or disrespectful descriptions of others.
NB. Concerns should be directed to the Club Welfare Officer details of which are on the contact page of this website.
Safety
Heaton Moor Golf Club strives to provide and a safe and enjoyable environment for children and young people whilst on our premises, course and practice ground.
Incidents and concerns on the Course or in the Clubhouse concerning children and young people are reviewed by the Committee and action is taken.
In line with good practice and recommendations from our governing body, England Golf, the Club has a Child Protection Policy in place which is available on our Junior Webpage Safety section. The Club is also accredited with the Safegolf standard (www.englandgolf.org).
In addition, we have devised a specific additional policy approved by the Board of Directors which advises on unaccompanied children on the Course and Practice Areas. Both available on our Junior Webpage Safety section.
Important Contacts
Golf Club Office: Charlie Dinsdale and Amanda Weir
0161 432 2134 (Option 1)
Professional Shop: Simon Marsh
0161 432 2134 (Option 2)
Club Secretary: Joan Clark
0161 432 2134 (Option 1)
Safeguarding Officer: Nicola Taylor
0161 432 2134 (Option 1
Junior Section Email: juniors@heatonmoorgolfclub.co.uk.
NB. Safety Tip: Add the Club's number to your mobile phone
Children and Young People – Safeguarding Policy and Procedures – Aug 22